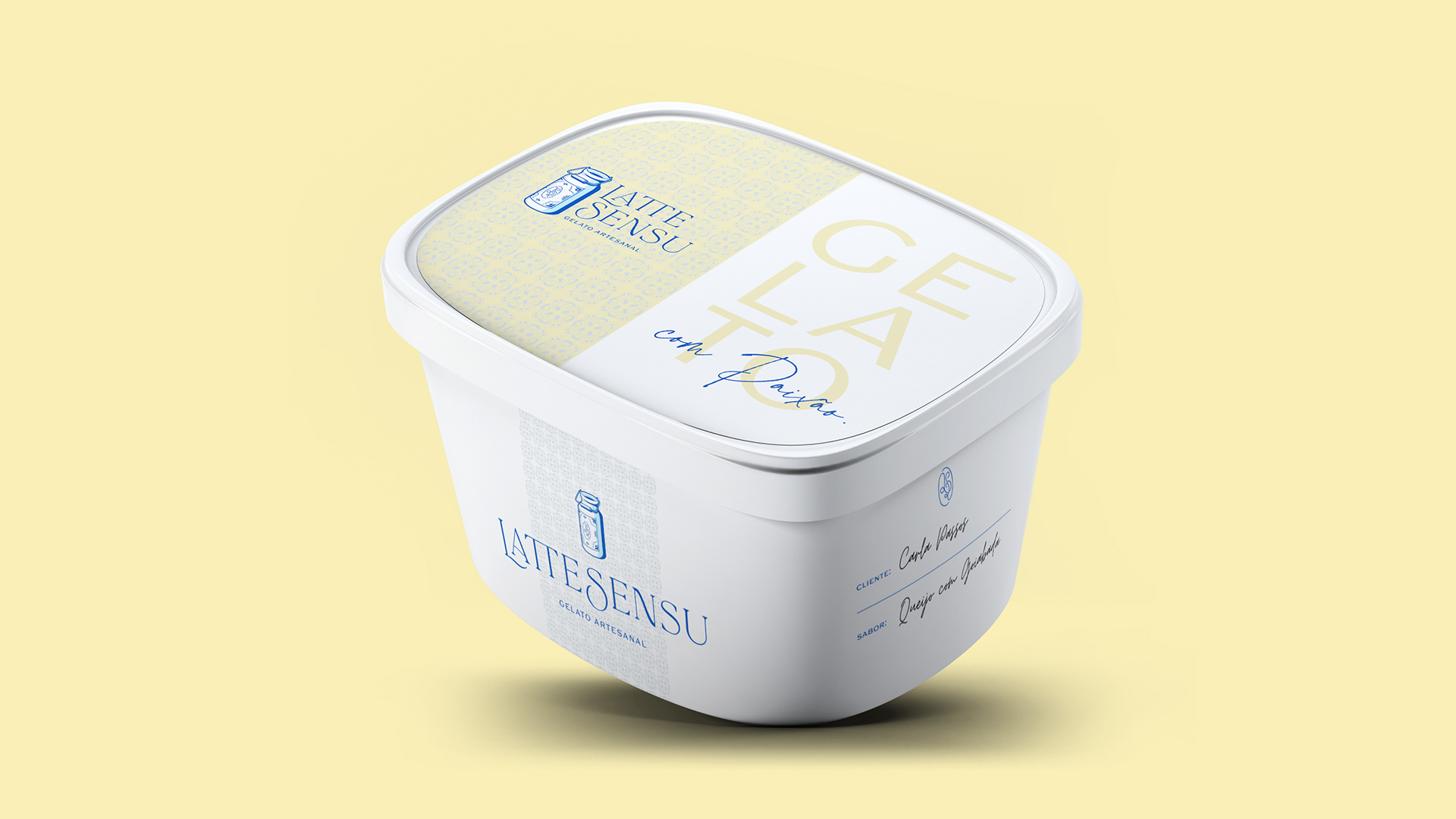 A Latte Sensu é uma empresa de produção e venda de gelato artesanal, com o método italiano e considerando a tradição e produção local (Brasil e depois Portugal). A empresa tem esse nome que remete ao leite pela sua pureza, a brancura com a pureza, além de ser o leite o ingrediente primordial do sorvete. Mostrar que são utilizados materiais puros, orgânicos, naturais e selecionados. A ideia do Latte Sensu brinca com uma expressão muito conhecida: Latu Sensu.

A expressão sensu em latim significa "em sentido amplo", capacidade de percepção. Portanto o nome remete à uma expressão conhecida e pretende que os clientes tenham a percepção que o gelato é elaborado com leite, de forma pura e orgânica. Meu desafio foi criar uma identidade visual que encaixasse perfeitamente com a proposta da Latte Sensu. Além de buscar desenvolver uma marca em que se encaixasse nos atributos passados pelo cliente tendo como premissa os cinco mais destacados: Sensível, Rústica, Emocional, Criativa e Atual.
A solução encontrada para a necessidade do cliente foi um balde de leite bem daqueles de roça e bem brasileiro como representação do "latte na marca" e também como algo que remetesse a algo bem artesanal. Como um dos donos da empresa é português usei um azulejo português dentro do balde de leite, como se fosse um rótulo e nesse rótulo adicionei um monograma que pode ser usado para representação a Latte Sensu em espaços e tamanhos pequenos.
Latte Sensu is a company producing and selling handmade gelato, with the Italian method and considering the tradition and local production (Brazil and then Portugal). The company has this name that refers to milk for its purity, whiteness with purity, besides being milk the primary ingredient of ice cream. Show that pure, organic, natural and selected materials are used. The idea of Latte Sensu plays with a very well-known expression: Latu Sensu.


The expression sensu in Latin means "in a broad sense", capacity of perception. Therefore the name refers to a known expression and intends that customers have the perception that the gelato is made with milk, in a pure and organic way. My challenge was to create a visual identity that would fit perfectly with Latte Sensu's proposal. Besides seeking to develop a brand that would fit the client's past attributes, the five most outstanding ones were: Sensitive, Rustic, Emotional, Creative and Current.


The solution found for the client's need was a bucket of milk well of those from the countryside and well Brazilian as a representation of the "latte in the brand" and also as something that referred to something very artisanal. As one of the owners of the company is Portuguese I used a Portuguese tile inside the bucket of milk, as if it was a label and in this label I added a monogram that can be used to represent Latte Sensu in small spaces and sizes.